Project Details
LEAD AGENCY: Conservancy
ACQUISITION (CONSERVANCY): $450,000
PLANNING & DESIGN TO DATE: $15,000
CONSTRUCTION ESTIMATE: $85,000
FUNDING PARTNERS: Conservancy; California Conservation Corps
LOCATION: Eagle Rock Hiking Trail
Help Protect Tahoe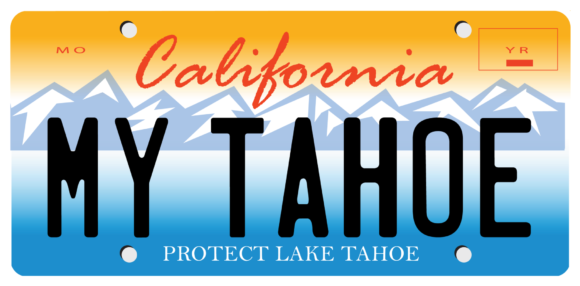 Help protect Lake Tahoe's clear blue waters, mountain forests, and world-class recreation by ordering your Tahoe Plate today.
Get Your Tahoe Plate
Overview
Eagle Rock is located on the west shore of Lake Tahoe adjacent to Blackwood Creek, approximately five miles south of Tahoe City. The California Tahoe Conservancy purchased Eagle Rock and the surrounding 54.5-acre parcel in 1987 to provide public access, recreation, and opportunities for restoration of environmentally sensitive lands.
Opportunities
When the Conservancy purchased the Eagle Rock property, severely eroded user-created trails were the only means of accessing Eagle Rock. In many areas the trails had deepened to become gullies, trapping water, and routing sediment-laden runoff to Blackwood Creek, transporting fine sediment to Lake Tahoe.
Immediately adjacent to Eagle Rock is the Conservancy's Blackwood Creek Restoration Project. The restoration project improved riparian and aquatic habitat conditions, and channel stability and function along a section of the creek upstream from the State Route 89 bridge.
Approach
California Tahoe Conservancy and California Conservation Corps crews constructed a new trail during the summer of 2011. The new trail is designed to maximize soil stability and user enjoyment, implementing advanced erosion control techniques to stabilize eroding areas and disperse concentrated water flows.
The summit of Eagle Rock can now be reached in approximately 20 minutes using the new trail. From the top of Eagle Rock nearly all of Lake Tahoe comes into view. Improved parking is available off of State Route 89, immediately south of Eagle Rock.
The Conservancy extends gratitude to the Tahoe Rim Trail Association and the U.S. Forest Service, Lake Tahoe Basin Management Unit for providing training and field assistance.
Status
The trail is open for public use. A kiosk provides on-site information.